ArcelorMittal Warszawa is among just a few companies to have received ResponsibleSteel™ certification. The company, after a successful audit carried out by ResponsibleSteel™ Accredited Auditors from DNV Poland, received on January 24th, 2023 the certificate which confirms that it fulfills the criteria required to earn certification against the ResponsibleSteel™ Standard.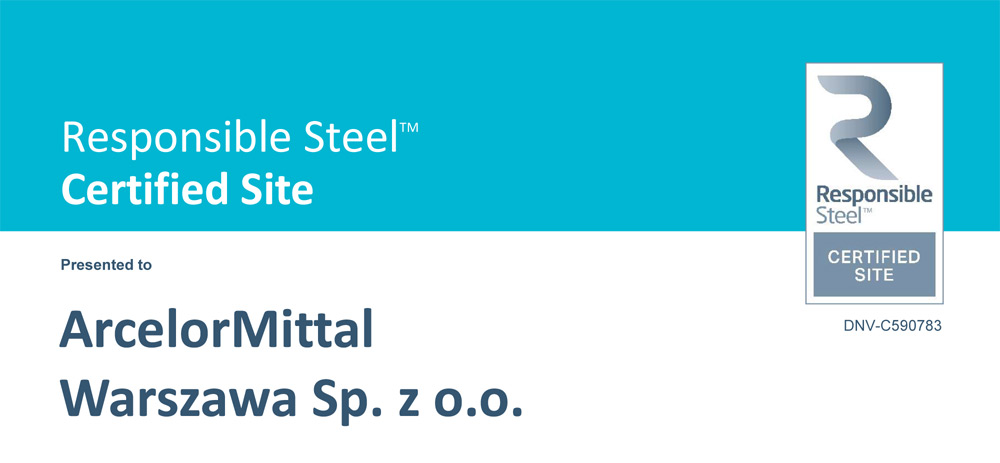 What is ResponsibleSteel™?
ResponsibleSteel™ is a new standard for the steel industry that focuses on environmental and social issues. It was developed by the ResponsibleSteel™ organization associating with the largest steel companies in the world, social, scientific and environmental organizations. Many of the detailed criteria of the standard go far beyond the requirements set out in the law or internal ArcelorMittal documents.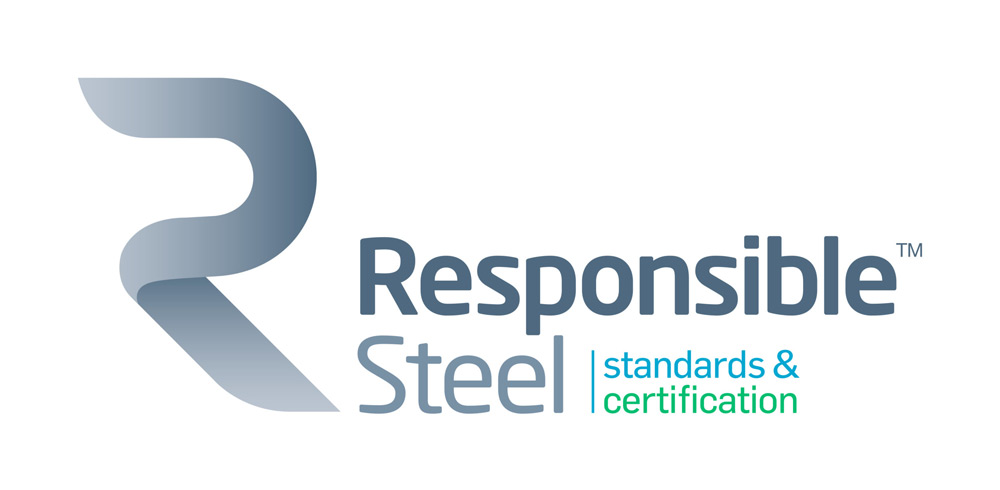 ResponsibleSteel™ standard certification is to provide customers and our stakeholders with confidence that the steel we produce has been produced in a responsible, sustainable way, respecting the principles of ethics and responsible business at every stage: from sourcing raw materials, through production processes and managing their environmental impact.
We want to be perceived as a socially responsible company contributing to the sustainable development of society. We want the whole industry to be perceived in this way. Steel – is the material of the modern world, and Metallurgy – is a responsible industry.
Standard ResponsibleSteel™ – 12 principles
The ResponsibleSteel™ standard consists of twelve principles for the responsible sourcing and production of steel:
Principle 1. Corporate Leadership
ResponsibleSteel™ certified sites are led responsibly.
Principle 2. Social, Environmental and Governance Management Systems
ResponsibleSteel™ certified sites have an effective management system in place to achieve the social, environmental and governance objectives to which they are committed.
Principle 3. Occupational Health and Safety
ResponsibleSteel™ certified sites protect the health and safety of workers.
Principle 4. Labour Rights
ResponsibleSteel™ certified sites respect the rights of workers and support worker well-being.
Principle 5. Human Rights
ResponsibleSteel™ certified sites respect human rights wherever they operate, irrespective of their size or structure.
Principle 6. Stakeholder Engagement and Communication
ResponsibleSteel™ certified sites engage effectively with stakeholders, report openly on issues of importance to stakeholders, and remediate adverse impacts they have caused or contributed to.
Principle 7. Local Communities
ResponsibleSteel™ certified sites respect the rights and interests of local communities, avoid and minimize adverse impact and support community well-being.
Principle 8. Climate Change and Greenhouse Gas Emissions
The corporate owners of ResponsibleSteel™ certified sites are committed to the global goals of the Paris Agreement, and both certified sites and their corporate owners are taking the actions needed to demonstrate this commitment.
Principle 9. Noise, Emissions, Effluents, and Waste
ResponsibleSteel™ certified sites prevent and reduce emissions and effluents that have adverse effects on communities or the environment, manage waste according to the waste management hierarchy and take account of the full life cycle impacts of waste management options.
Principle 10. Water Stewardship
ResponsibleSteel™ certified sites demonstrate good water stewardship.
Principle 11. Biodiversity
ResponsibleSteel™ certified sites protect and conserve biodiversity.
Principle 12. Decommissioning and Closure
ResponsibleSteel™ certified sites minimize the adverse social, economic, and environmental impacts of full or partial site decommissioning and closure.
The auditing process
The audit was carried out by independent auditors from DNV. The first stage, which took place in May 2022, confirmed our readiness for the second stage – the basic certification process based on interviews and documentation. The second stage of the audit took place in September 2022. In addition to an in-depth analysis of documents, it included a number of activities of auditors verifying how sustainable steel production works in practice in our country. The auditors focused on talks with the management of individual departments, visited production areas, and conducted individual and group interviews with employees, trade unions, and other stakeholders of ArcelorMittal Warszawa – including representatives of the local community.