ArcelorMittal's commitment to maintaining high standards and best practices in corporate governance in terms of transparency is essential for the Company's prosperous development.
In our view, good business practices ensure long-term business success. We want to sustain a reputation for the highest possible standards of ethics and transparent governance.
Compliance programme
The Compliance Programme was implemented in ArcelorMittal and its subsidiaries in June 2007 and revised in October 2008.
Compliance Policies include the following:
Social policy
The present and the future of ArcelorMittal Warszawa, as well as its success and growth, depend to a large extent on our employees and stakeholders around us. Therefore, social responsibility is one of the key areas of our policy.
At ArcelorMittal Warszawa we have implemented the Social Policy and we undertake to act in Compliance therewith. The policy should be known to all employees and available to all partners of our company.
We respect human rights, comprising the right to decent work, safe, healthy and fair work conditions, equal pay for equal work, with freedom of association, assembly and religion, the right to education and leisure, the freedom from discrimination, harassment and violence, forced or compulsory labour and child labour among others. These rules stem from the United Nations Universal Declaration of Human Rights and are reflected in the ArcelorMittal Human Rights Policy as well as the Collective Labour Agreement and Work Regulations of ArcelorMittal Warszawa.
All employees and stakeholders are treated fairly, with respect and dignity. Stakeholders stand for all persons, authorities and companies with whom we have relations, including employees of our company and external companies, neighbours, suppliers, customers, trade unions or state administration and local government authorities.
As signatories to the Policy of Diversity and Social Integration, we consider diversity an opportunity and we create a climate of acceptance and mutual trust. We support social and cultural diversity both inside our company and outside.
Health and safety are our top priority. We make efforts to ensure a safe and healthy workplace. Our goal is zero accidents.
Respect for natural environment and its protection belong to our priorities. ArcelorMittal Poland uses in its operations the best available technologies, which contribute to environmental protection and fulfil sustainable development goals.
We are transparent in our actions and we engage in open communication inside our company and also with local communities, our neighbours and other stakeholders.
Chief Executive Officer
Marek Kempa
Warszawa, 30 September 2021
Diversity Charter
On September 22, 2021, ArcelorMittal Warszawa joined the group of the Diversity Charter signatories – over 20,000 organizations from 26 European countries, actively counteracting discrimination and mobbing by creating friendly work places.
Counteracting discrimination and mobbing is one of the key principles in force at ArcelorMittal Warszawa conforming to the Code of Business Ethics. The signing of the Diversity Charter constitutes another step that strengthens the company's public commitment in this regard.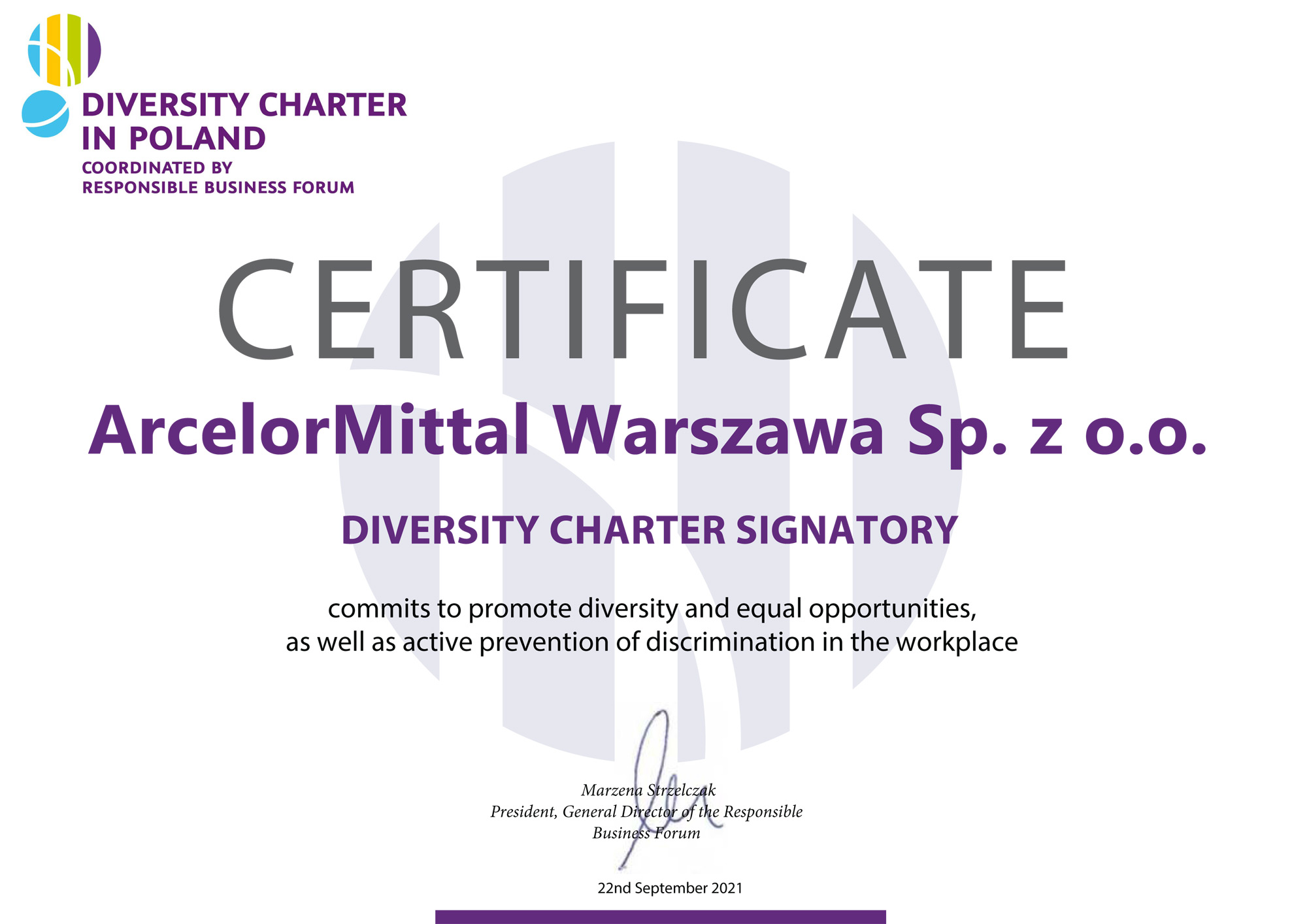 Training
According to the Compliance Programme, every employee is obliged to be familiar with and trained in the Code of Business Conduct, the Whistleblower Policy and HR policy. Additionally, defined groups of employees are obliged to be acquainted with and trained in the remaining parts of the programme. Trainings are conducted face-to-face and online and repeated every 3 years. Additionally, the scope of particular programme components is determined by the corporate legal office and published on ArcelorMittal's Intranet site.
Whistleblower
ArcelorMittal aims for integrity, fairness and ethical behaviour in all its business relations. In order to facilitate reporting illegal or unethical behavior please use one of the following ways:
Call free of charge number: 00-800-151-0029
Enter the website: arcelormittal.ethicspoint.com
Contact the Legal Department of ArcelorMittal Poland directly:

Magdalena Soboń-Stasiak – Compliance officer ArcelorMittal Warszawa